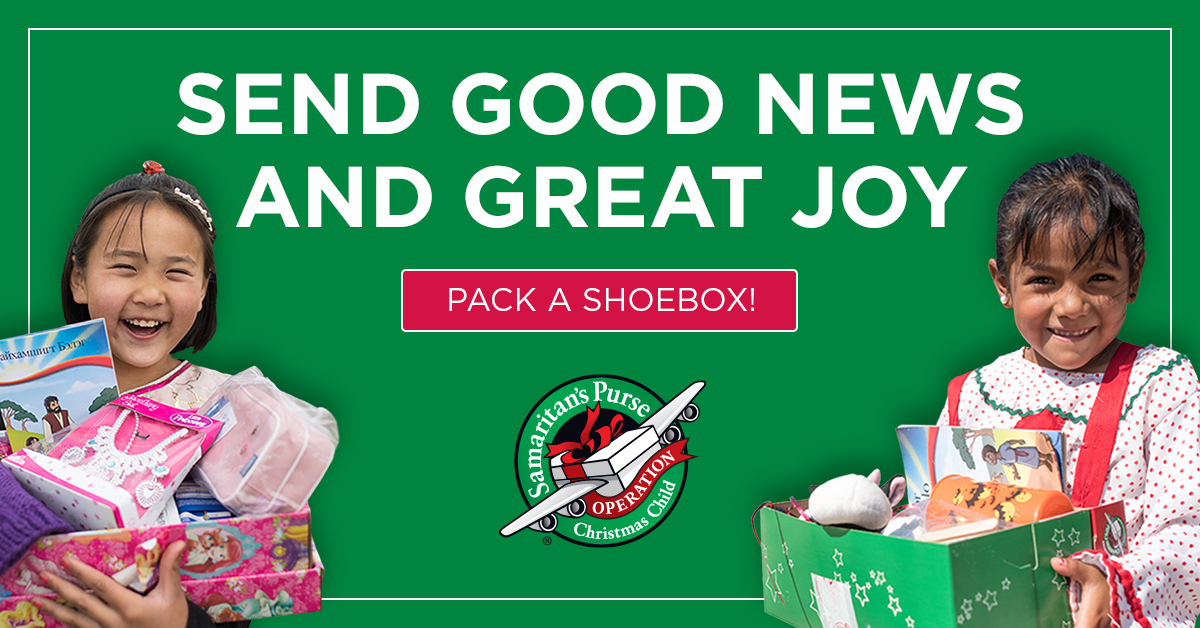 Operation Christmas Child
Operation Christmas Child is a project of Samaritan's Purse, an international relief organization. The mission of Operation Christmas Child is to provide local partners around the world with shoeboxes filled with small toys, hygiene items, and school supplies as a means of reaching out to children in their own communities with the Good News of Jesus Christ. These simple gifts are shipped outside the United States to children affected by war, poverty, natural disaster, famine, and disease; and to children living on Native American reservations in the U.S.
This holiday season TSC is participating in Operation Christmas Child. Together we will pack hundreds of shoeboxes to be sent to children all over the world! For many children, your shoebox gift will be the very first gift they ever receive. This is a great opportunity for you, your family, friends or Connect Group to be a part of sending good news and great joy!
The Journey of a Shoebox
The amazing journey of a shoebox gift begins with you and results in evangelism, discipleship, and multiplication.
Operation Christmas child began in the united states in 1993 with 28,000 shoe box gifts. since then, this Samaritan's Purse project has collected and hand-delivered more than 86 million shoebox gifts to needy children in more than 130 countries.
How Do I Get Involved?
1) Pick up your shoebox in the Worship Center lobby. You will be able to pick up shoeboxes November 3rd, 10th and 17th.
2) Fill your shoebox with gifts! Don't forget to add $9 (cash/check) in your box to cover shipping.
3) Drop your shoebox off at the Operation Christmas Child tables in the B and C building lobbies! November 24th is the last day to drop off your shoebox!
If you still have questions, we will have a team of people at the Operation Christmas Child table in the Worship Center lobby to answer your questions or click here to see some FAQs.